THIS IS FOR A MANUAL ON HOW TO CONVERT AN ENGINE TO RUN ON WATER (HYDROGEN). NO PARTS, SUPPLIES, BITS, PIECES, ARE INCLUDED IN THIS AUCTION LISTING. JUST THE PLANS, THATS ALL. AND THERE ARE NO GUARANTEES IMPLIED.

USE THESE PLANS AT YOUR OWN RISK. BEST TO BE USED FOR EDUCATIONAL / SCIENTIFIC PURPOSES. IN OTHER WORDS HAVE FUN WITH THEM, EXPERIMENT, BUT I DON'T SUGGEST YOU MODIFY YOUR "DAILY DRIVER" UNTIL YOU HAVE MADE IT WORK ON SOMETHING OF LESS IMPORTANCE TO YOUR LIVELYHOOD! YOU ACCEPT ALL RESPONSIBILITY AND LIABILITY IF YOU USE THESE PLANS.

EXCERPT FROM MANUAL: PRELIMINARY PLANS TO RUN YOUR CAR ON TAP WATER!
IT ALSO WORKS ON YOUR
TRUCK / RV / MOTORCYCLE / AIRPLANE (ETC)
Will This Work?
These plans were sent to the Spirit of Ma'at anonymously, from someone who does not
want his or her name printed (for obvious reasons).
We have had them checked by an expert who believes that they are real.
We also have talked with another individual who has patented a similar device, and we know
by personal experience that the technology is sound.
So although we cannot guarantee it, we believe these plans will enable you to build a car
that runs on water. If you test it out, though, do as the writer suggests and use an old car
that doesn't represent a loss of value if you can't make it work. And leave everything
intact so that you can always reconnect back to gas if you have to.
SAMPLE DESIGN FROM MANUAL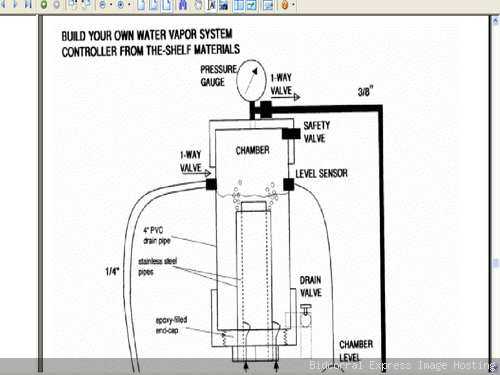 ALL SALES FINAL BECAUSE THIS ITEM CAN BE COPIED. PLEASE ASK QUESTIONS BEFORE PLACING ORDER.

I WILL PUT THIS ON A CD AND SHIP IT IN THE U.S. (LOWER 48) FOR A PROCESSING AND SHIPPING FEE OF $6.00 (INCLUDING THE CD) + THE PRICE OF THE WINNING BID.

INTERNATIONAL ORDERS WILL BE SENT BY EMAIL